All your technical products in one convenient place

Worldwide delivery

Easily compare products and specifications

Clear communication
Actuator / 128.0 DD / F07/F12 30 mm
Serie 92 / Rack and pinion pneumatic actuator / Dubble acting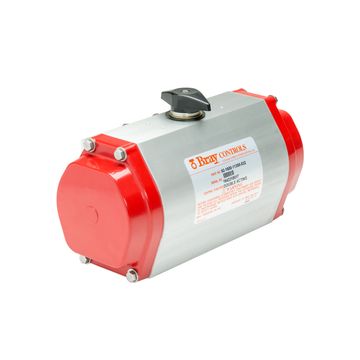 Actuator / 128.0 DD / F07/F12 30 mm
Styling, strength, compactness, and simplicity of design have been combined to produce the Bray Series 92 direct acting.
Engineering excellence and precision manufacturing have produced a modular product line with reduced size requirements and economic savings.
In addition, all Bray accessories are fully modular and directly mounted to the actuator – providing flexibility and efficiency at a reduced cost.
The Serie 92 actuator was designed primarily for pneumatic operation up to a maximum pressure of 140 PSIG (10 Bar) and temperature ranges of -4°F to 200°F (-20°C to 93°C).
The Serie 92 is completely enclosed and self-contained.
The many features minimize maintenance and provide safe, simple disassembly and assembly.
The Serie 92 goes up to an output torque of 44,130 in-lb (4,986 Nm).
Positive
Two independently adjustable travel stop screws and a cam on the output shaft to permit precise bidirectional adjustment of movement in both the open and closed positions for quarter turn valves
Integral porting
Standard units have anodized aluminum bodies with polyester coated end caps
NAMUR accessory compatible
Specifications
Product
Type of actuator

Rack and pinion actuator

Size

128.0

Actuator with visual position indication

Yes

Length

325 mm

Width

142 mm

Height

205 mm

Weight

10 kg
Application
Supply media

Dry compressed air, Inert gas

Mounting

ISO 5211: 2001(E)

Mounting flange

F07, F12
Properties
Temperature range

-20 to 93 ℃

Pressure class

ANSI Class 150
Remarks
Mounting orientation

Orientation A - mounting parallel to the pipeline
Materials
End caps

Cast aluminum alloy with corrosion resistant polyester coating

Housing material

Extruded aluminum alloy, anodized 316 stainless steel
Quality
Testing standard

EN 15714-3:2009

Design standard

EN 15714-3

Certifications

ABS, ATEX, Bureau Veritas, PED, SIL 3

Degree of protection (IP)

IP66, IP67M
Power
Output torque

Up to 44,130 in-lb (4,986 Nm)
Capacity
Inlet supply pressure

Up to 140 psig (10 Bar)

Power type

Pneumatic operation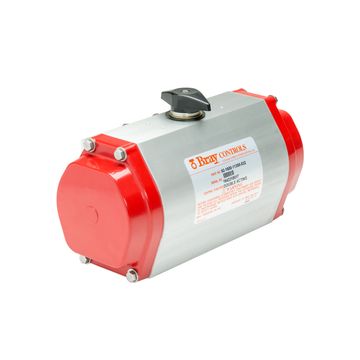 This package contains:
Actuator
Visual position indicator
Excluded from purchase:
Why are these items excluded from the purchase?
Sometimes you may expect that a specific accessory is included with your purchase, such as a power supply, battery or mounting bracket. When these items are not included in the purchase, they are explicitly mentioned here. That way, you will be satisfied when you open your package and find exactly what you were expecting.
Documents